Tissue Engineering: Salivary Gland Tissue Engineering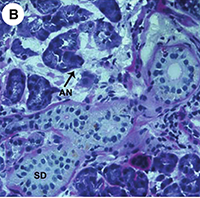 Patients with head and neck cancers are frequently subjected to radiation therapy. Such a treatment increases the survival rate, but inevitably damages the salivary glands, resulting in xerostomia, or dry mouth syndrome, that severely compromises the quality of life for cancer survivors. Patients with xerostomia exhibit difficulty in chewing and swallowing foods, tooth decay, periodontal disease, and microbial infections. Approximately 40,000 patients per year in the U.S. are afflicted by xerostomia. Current treatments for dry month include saliva stimulants, saliva substitutes and gene therapy; none offer long–term curative results. Alternative strategies that can be clinically applied toward restoration of salivary gland function are critically needed.
In collaboration with Dr. Mary C. Farach–Carson at Rice University and Dr. Robert Witt at the Christiana Care Health Systems, we are developing tissue engineering technologies for the regeneration of functional and implantable salivary glands. Work in the Jia Group is focused on engineering modular, 3D instructive matrices for the in vitro assembly of salivary acini structures and in vivo tissue integration and angiogenesis. Biologically–relevant artificial matrices with varying mechanical properties, enzymatic stability, pore size, epitope levels and growth factor release kinetics will be synthesized and characterized. Promising ones will be sent to the Farach–Carson and the Witt Groups in support of their in vitro assembly of salivary gland constructs and the in vivo assessment of tissue integration and salivary function. The collaborative effort ensures rapid translation of our discoveries into the clinic to improve the quality of life of many patients suffering from salivary secretory dysfunction.
Collaborators:
Mary C. Farach–Carson, Department of Biochemistry and Cell Biology, Rice University
Robert Witt: Section of Otolaryngology–Head and Neck Surgery, Department of Surgery, Christiana Care Health Systems
Selected Publications
Pradhan–Bhatt, S.; Harrington, D. A.; Duncan, R. L.; Jia, X.; Witt, R. L.; Farach–Carson, M. C*. "Implantable Three–Dimensional Salivary Spheroid Assemblies Demonstrate Fluid and Protein Secretory Responses to Neurotransmitters" Tissue Eng Part A, 2013, 19, 1610–1620.
Pradhan, S.; Liu, C.; Zhang, C.; Jia, X.; Farach–Carson, M. C.; Witt, R. L.* "Lumen Formation in Three–Dimensional Cultures of Salivary Acinar Cells", Otolaryngol. Head Neck Surg. 2010, 142, 191–195.
Pradhan, S.; Zhang, C.; Jia, X.; Carson, D. D.; Witt, R.; Farach–Carson, M. C.* "Perlecan Domain IV Peptide Stimulates Salivary Gland Cell Assembly in vitro" Tissue Eng Part A. 2009, 15, 3309–3320.