Functional Biomaterials: Mechano–Responsive Hydrogels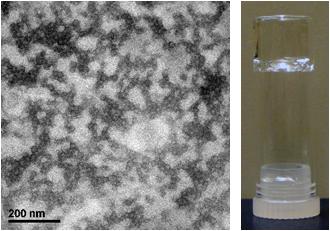 Recent biophysical studies using nanotools revealed a diverse set of structural motifs in ECM that could change conformation over a range of mechanical forces. Such force–induced changes ultimately produce changes at the biochemical level that effectively direct cellular behaviors. Synthetic biomaterials with the ability to respond rapidly and reversibly to mechanical stresses over prolonged periods of time in the human body have yet to be developed. To mimic the modular domain structures of functional proteins in natural ECM, we are exploring the use of specific and reversible supramolecular interactions in combination with well–defined polymer synthesis and surface engineering methodologies to construct dynamic and mechano–responsive materials. We anticipate that the unique hierarchical design combined with well–defined polymer chemistry will give rise to materials that exhibit a combination of strength, reversibility, and energy absorption as seen in their natural analogues. The ability to systematically vary the matrix mechanical properties is likely to offer handles for the determination of cell behaviors.
Selected publications
Xiao, L.; Zhu, J.; Londono, D. J.; Pochan, D. J.; Jia, X.* "Mechano–Responsive Hydrogels Crosslinked by Self–Assembled Block Copolymer Micelles", Soft Matter, 2012, 8, 10233–10237
Xiao, L.; Liu, C.; Zhu, J.; Pochan, D. J.; Jia X.* "Hybrid, Elastomeric Hydrogels Crosslinked by Multifunctional Block Copolymer Micelles", Soft Matter, 2010, 6, 5293–5297.