Beatles Singles Discography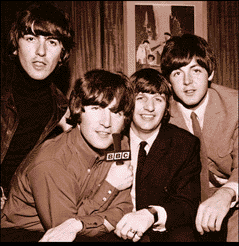 UK Releases
Singles titles and their release dates in the UK. Since the UK is the center of the Beatle universe, I haven't listed release dates for other countries -- but let me know if you think I should. The titles are listed as Side A/Side B.
Love Me Do/P.S. I Love You, Parlophone, October 5, 1962.
Please Please Me/Ask Me Why, Parlophone, January 11, 1963 .
From Me To You/Thank You Girl, Parlophone, April 11, 1963.
She Loves You/I'll Get You, Parlophone, August 23, 1963.
I Want To Hold Your Hand/This Boy, Parlophone, November 29, 1963.
Can't Buy Me Love/You Can't Do That, Parlophone, March 20, 1964.
A Hard Day's Night/Things We Said Today, Parlophone, July 10, 1964.
I Feel Fine/She's A Woman , Parlophone, November 27, 1964.
Ticket To Ride/Yes It Is, Parlophone, April 9, 1965.
Help!/I'm Down, Parlophone, July 23, 1965.
We Can Work It Out/Day Tripper, Parlophone, December 3, 1965.
Paperback Writer/Rain, Parlophone, June 10, 1966.
Yellow Submarine/Eleanor Rigby, Parlophone, August 5, 1966.
Penny Lane/Strawberry Fields Forever, Parlophone, February 17, 1967.
All You Need Is Love/Baby You're A Rich Man, Parlophone, July 7, 1967.
Hello Goodbye/I Am The Walrus, Parlophone, November 24, 1967.
Lady Madonna/The Inner Light, Parlophone, March 15, 1968.
Hey Jude/Revolution, Apple, August 30, 1968.
Get Back/Don't Let Me Down, Apple, April 11, 1969.
The Ballad Of John And Yoko/Old Brown Shoe, Apple, May 30, 1969.
Something/Come Together, Apple, October 31, 1969.
Let It Be/You Know My Name (Look Up The Number), Apple, March 6, 1970.
---
Mike Markowski
Last modified: January 11, 1995