Sept. 14 - 18.

Last night our car was
bumped around fierce. I was
tossed all over on top of
our baggage & had a fine
time trying to sleep.
During the night we
passed thru Amiens, the
second largest city in
France & only about 18
miles north of Paris.

Sept. 15 - 18.

Am in Rosel du Auvat today
& think this is where we
will meet up with our
reg't. Several train loads
of fresh prisoners are here
& I saw one give an old
Scotchman his Iron Cross
for a cigarette. I yanked
a button off one prisoners
cap which I intend to
send home.

Sept. 16 - 18.

Back with the company
in Amplier France. Wagons
came after our baggage late
last night & we worked
until 3 a.m. getting it all
here. Today I went swimming
the first time since my
arrival overseas, but I couldn't
enjoy the water as its mighty
cold this time of the year!


Sept. 18 - 18.
This morning at 8.30 our
dentist bored a hole thru my
gum in order to reach an
abcessed tooth. Peachy, indeed.
The dentist has his quarters
in a quaint French school
house. The blackboards &
desks are still here, but
the children were taken
to a safer zone farther
in the rear. At 1 P.M.
today we started on hike
in heavy marching order.
The sun was blistering
hot & I soon had blistered
feet. We halted about
7 P.M. & pitched dog tents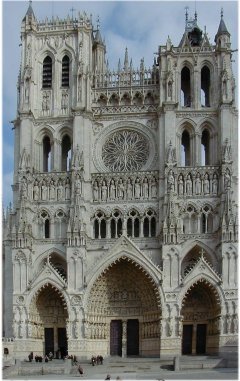 Cathedral in Amiens