June 21st 1918.


Houverilles France. Enroute
to this place we crossed
the famous Somme River
It was a long march & again
many men dropped out
exhausted. I am sleeping
on the floor in an old
chateau - shell torn &
ruined.


June 22nd 1918.


Marched to outskirts of
Abbeyville & then took
Lorries to Rue St. Leger. No
supper was served & as I
was mighty hungry I
rustled some bread & jam
in a British Lorry. Alls fair
in love & war.


June 23rd 1918.


Today I was acting corporal
of the guard. Fair, a rather
nutty fellow, fired two
shots in the air & the
top serg't ordered me to
arrest & hand cuff him.
Poor Fair! I had him chained
to a big roller all night.


June 25th 18.


This is a payday but I draw
nothing owing to my allot-
ment having been over-paid.
I lost all my money on
the transport, $175.00 so
have been broke ever
since. Its hell to be
without smokes & the
price of other comforts.


June 26th 1918.
Wow! Ribble who I loaned
$60.00 in America paid
me 50 Francs & I celebrated
by getting potted on
champagne. I was rough
as usual & offered to
box anyone in the crowd.


June 27th 1918.


German planes overhead.
Heavy firing & one shell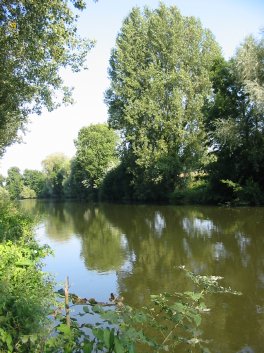 Somme River