2008-present
| | |
| --- | --- |
| Front | Back |
This QSL card uses Phil Gildersleeve's art on the front and back. There are many great artists out there, but his style really appeals to me. Surfing the web one day, I found Bob W8JYZ's wonderful web site which represents an incredible amount of work. From Bob's pages I took a few of Gil's pictures, cleaned them up, and made this card. I thought it would be fun to have a vintage looking card, and thanks to Randy KB3IFH's excellent printing, now I do!
2010 Fort Monmouth Operation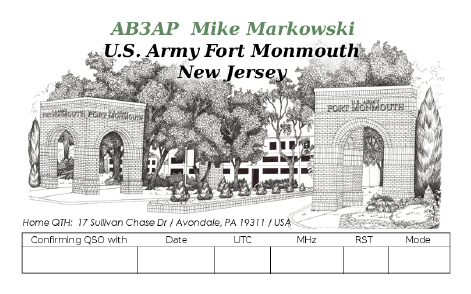 Front
When I find myself at Ft. Monmouth, NJ I greatly enjoy hooking my Elecraft K1 up to their 700' long rhombic antenna. Fort Monmouth has a rich history in ham radio and worth looking into if it's new to you. 5W easily gets into Europe, the highest gain direction of the antenna. This QSL card shows the main gate of the fort.
2003-2008
| | |
| --- | --- |
| Front | Back |
My QSL card uses Buckminster Fuller's Dymaxion map, to which I added a red dot at my QTH. This projection is the most accurate, but you do lose the feel for spherical relationships. Or at least I do! However, it's the only projection that preserves sizes and doesn't chop up any land masses. The image is a mosaic of actual satellite photography on days without clouds.
I use the picture to emphasize that there are no borders on earth. We're all here together.
The back of the card is a grayscale image of a bunch of slide rules. Yes, I enjoy using and collecting these neat old gadgets. :-) Let me know if you have any to get rid of!
Software to Make Cards
To make the cards, I used gimp and created the images at 300 dpi. (The above are scaled and compressed versions.)
The Fists logo on my oldest card was taken from the logo at fists.org. You'll find a pointer to my logo XCF file on my main ham page under the Fists key. My Fists number is just a layer that you can turn off, so feel free to grab the file and modify it if you're a gimp user.