National Traffic System, Maryland Slow Net (NTS MSN)
MSN Net Assignments

| | | |
| --- | --- | --- |
| Day | NCS | MDD Rep |
| Sun | Frank, N3ZOC | N3ZOC |
| Mon | Milt, K4OSO | W3CB |
| Tue | Ron, N3AEA | W8CPG |
| Wed | Frank, N3ZOC | W8CPG |
| Thu | Mike, AB3AP | N3ZOC |
| Fri | Pete, K3IN | K3IN |
| Sat | Pete, K1PJS | N3MNT |

NTS Info

See the ARRL NTS Manual for detailed information on the how NTS works.

See the ARRL NTS Manual, Appendix B, Chapter 3 for how to send messages using CW. Everything you need to know and then some!

(Recommendation: use the free and excellent Calibre to convert the html NTS manual to your e-reader format. I also spent a few evenings converting App B, Ch 3 so that I'm not not tethered to my PC to read these helpful manuals.)
When & Where
3563 kHz nightly at 7:30pm ET.
Sample MSN Session
A long time ago on a frequency far, far away, an MSN exchange went something like what you see below. Books usually are limited to black text, so reading exchanges requires preceding each transmission with the operator's call like reading a play. For instance,
OP1: tnx fb qso 73 him de me
OP2: 73 om me de him
But that gets more than a little confusing when reading the concise exchanges between cw net ops. So let's use color coding. The Net Control Station is the boss man so we'll color him red and then randomly assign two other ops blue and green.
Please let me know if you find this helpful or if you can think of ways to improve it. After all it's supposed to help new comers, and if it isn't doing that it needs fixing. 73 and hope to see you on MSN!
W8CPG is NCS
N3ZOC who is the MDD rep and will also pass a message to
AB3AP, another MSN checker in.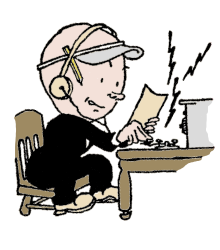 We now join your local MSN already in progress...
Exchange
Translation
CQ MSN CQ MSN CQ MSN de W8CPG x


MSN is the Maryland Slow Speed Traffic
Net which meets here daily to train
traffic handlers and pass traffic x


All are welcome x


MSN now QND x

Net is directed
PSE QNZ VVV VVV
Zero beat to NCS's signal
QNN W8CPG/Bruce
Name of NCS
QNA MDD rep k
Asking MDD rep to check in
de N3ZOC/MDD QTC AB3AP 1 +
MDD rep checks in, 1 message for AB3AP
N3ZOC GE Frank AS
NCS acknowledges
MSN QNI k
Asks for general checkins
P
AB3AP ready to check in (sends last letter in call)
P
NCS acknowledges
de AB3AP GE Bruce QRU k
AB3AP check in, no traffic
AB3AP GE Mike QNU AS
Tells AB3AP net has traffic for him
MSN QNI k
Asks for more checkins
MSN QNI k
MSN QNI k
AB3AP
Calls AB3AP
HR
AB3AP acknowledges
N3ZOC
Calls N3ZOC
HR
N3ZOC acknowledges
Up three AB3AP 1 up 3 k
Move up 3 kHz to pass 1 message to AB3AP
G
Going off frequency
G
Going off frequency
[traffic passed 3 kHz up.]
AP
Call suffix means returning from traffic passing
AP
NCS acknowledges
ZOC
Returning
ZOC
NCS acknowledges
AB3AP
Calls AB3AP
HR
AB3AP acknowledges
Tnx Mike es 73 QNX k
NCS excuses AB3AP
GE Bruce 73 de AB3AP [dit dit]
AB3AP says his 73
N3ZOC
Calls N3ZOC
HR
N3ZOC acknowledges
Tnx Frank es 73 QNX k
NCS excuses N3ZOC
GE all 73 de N3ZOC [dit dit]
Returning
MSN de W8CPG QNF GE
Net is over