Jonathan's 2013 Eagle Project - Franklin Township Bulletin Board and Drop Box
Hours volunteered to date: 213. Thanks, everyone!
(Hours include design, meetings, report writing.)
My Eagle project is made up of two parts:
Bulletin Board.

To announce public events, Franklin Township wants a free-standing bulletin board. It's based on the Appalachian Trail plans but is scaled down. For instance, the Appalachian Trail uses 10" x 10" posts and this one uses 6" x 6". Even at that, working with heavy, pressure treated wood is difficult. The end-posts are 12' long with about 3.5' underground.

Drop Box.

So that people can drop off letters after hours, the Township also wants a drop box. The first set of photos shows that being constructed.
- Jonathan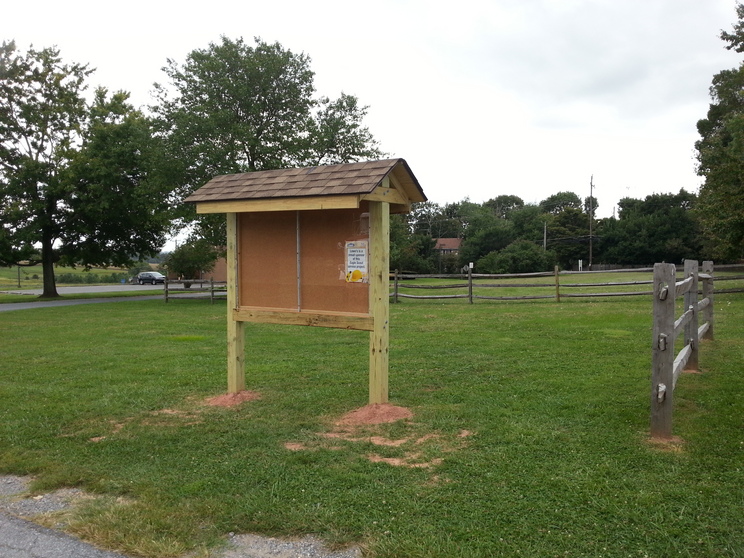 Drop Box
Initial Assembly


Master carpenters at work.

Taking shape!

Mail slot on, side door not.

Corner pieces needed.

Corner pieces added.

Door and hinges on, hasp needed.
Bulletin Board
Scouts are not allowed to use power tools, so preparation for this part of the project involved adult help.
.

Notching


First notch cut on 12' long 6" x 6" post.

Chiseling to smooth notch.

More notches.

Fitting truss members & escaping the hot sun.

More truss work. Notice angled notches at top.

Wow, they fit!

Preparing to drill lag holes.
.

Digging


First post hole.

Digging to China...well, 3.5' the way there.

Jonathan starting second post hole.
.

Framing


Basic frame.

Another view.

Small trusses added.

Perfectly level!
.

Roofing


Measuring for cuts.

Checking cuts. Stretch!

Installing fascia.

More fascia.

Middle rafter.

Putting on roof.

Other side of roof.

Looks small from far away. Much bigger & heavier when you're building it!

Tar paper.

Roof cement.

Roofed!

Closer look.

And another.
.

Bulletin Board


Plywood, 2x2's, cork installed.

Installing track for plexiglass.

Plexiglass installed. Finished!