Randy Klauk meets Paul
Randy Klauk writes...
In spring of 1994 I was working as a news photographer (Video) at a Minneapolis TV station. This day, I was sent to Fairmont, MN to cover Linda McCartney announcing her new frozen veggie dinners which were going to be packaged there. Rumor had it that Paul would be there too.
We (my reporter and I) arrived at the airport to a small crowd and tight security. Sure enough they both walked off the plane. They waved, got into a limo and drove right past the crowd without giving any autographs. I taped it all, did some interviews and hopped into the car to get to the next location.
From there they went to the plant that would be producing the dinners. Again they waved to the crowd but everyone was kept across the street so no one was able to get an autograph here either.
Then it was time for the press conference, Linda was brought to a long table in front of the cameras and microphones, alone. She answered questions of the reporters and people in the audience. Also in the room were some big shots of the plant. After a bit, Paul made his appearance. I was surprised at my reaction. Until then, I had been feeling fine. I began to get nervous knowing that I was seeing someone that I had grown up listening to. The Beatles music has always meant a lot to me. My first album was Beatles '65. I have all the American albums and discs. I remember as most of us do where I was when John was killed.
Well, to continue...I kept doing my job which is to get the pictures and sound for the story. When the press conference ended most of the people in the audience went forward to get autographs. I was finally getting the pictures I wanted, Paul interacting with local people. I was shooting from the far end of the table from the side Paul was on. I then noticed that some of the reporters in the crowd were asking for autographs too. It was then I decided to forget who I was (a professional doing a job) and grab my only chance to get his signature.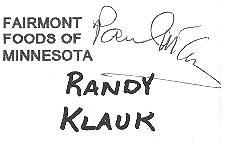 I worked my way across the room so I was two-three feet from him. He was signing albums, paper, straw hats, anything people had brought with them. I was shooting all this so I only had my left hand free as my right was holding my camera on my shoulder. The only thing I had handy was the press card they had given me earlier that was hanging on my shirt. It had my name on it but there was still room on it. So I unpinned it and handed it to him. He took it and signed it along with two other peoples paper. Just as he was leaving the room, literally, he handed the other two to their owners and then said here Randy handed mine to me and walked out of the room. So not only did I get Paul McCartney to give me his autograph, he said my name as well. When I walked or should I say floated out of the room I could not believe that I was shaking. It was an incredible experience that I hope all your readers get to enjoy one day.
---

Randy Klauk
<!Last modified: May 6, 1996>