<! _pre_ _img src="gifs/lennonSmall.gif"__/pre_ _p_ >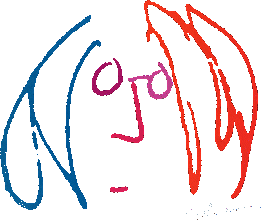 All-Music Guide Biography
[This is taken from the All-Music Guide which is available through gopher at allmusic.ferris.edu.]

John Lennon was a singer, songwriter, guitarist, record producer, author, actor, filmmaker, artist, and political spokesman, and one of the greatest figures in postwar popular music. Lennon was born in Liverpool, England, and became involved in music in the 50s. The group he founded as the Quarrymen eventually evolved into the Beatles, and from 1963 to 1970 they were the most successful rock group in history. Lennon, the group's leader, played an important part in that success, writing and singing many of its biggest hits and best songs. ,Lennon began to record and perform outside the group in 1969, usually in the company of his wife, avant-garde artist Yoko Ono. The early Lennon-Ono records (and films and performance events) were experimental in nature, but as Lennon turned to recording as a solo performer, his work was more accessible to pop audiences, though his lyrical concerns were frequently political or scathingly personal. His first formal solo album was JOHN LENNON/PLASTIC ONO BAND in 1970, and he followed this with IMAGINE (1971), SOMETIME IN NEW YORK CITY (1972), MIND GAMES (1973), WALLS & BRIDGES (1974), and ROCK & ROLL (1974). Most of his recordings sold well, with WALLS & BRIDGES topping the charts along with its single, "Whatever Gets You through the Night.",Lennon, who had separated from Ono in 1973, was reconciled with her in 1975 and thereafter retired from music to raise their son Sean. He and Ono reemerged with the album DOUBLE FANTASY in 1980, and had plans for further recordings and performances at the time he was assassinated. ~ William Ruhlmann
---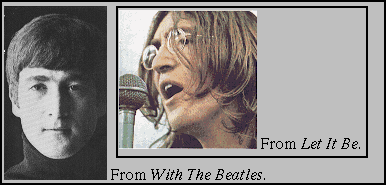 Chronology
This section is made up of excerpts taken from the out of print book "Imagine: John Lennon" by Solt and Egan, 1988---without permission, I should add. It is the companion book the 1988 film of the same name. More will be added as time allows...

October 9, 1940 John Lennon is born during a bombing raid at Oxford Street Maternity Hospital, Liverpool, to Julia Stanley and Alfred Lennon.

1956 Aunt Mimi buys John a guitar at Frank Hessy's music store. His incessant playing prompts her to say, "The guitar's all very well and good, John, but you'll never make a living out of it." John forms his first group, the Quarrymen, with pals Pete Shotton, Nigel Whalley, and Ivan Vaughan.

July 6, 1957 John meets Paul McCartney at the Woolton Parish Church in Liverpool during a performance by the Quarrymen. John, impressed by Paul's ability to tune a guitar and by his knowledge of song lyrics, asks Paul if he wants to join the group as lead guitarist.

1958 John writes his first song, "Hello Little Girl." It will be recorded by the Beatles at their 1962 audition for Decca Records.

January 1961 The Beatles debut at the Cavern Club.

April 8, 1963 John Charles Julian Lennon is born to Cynthia and John at Sefton General Hospital, Liverpool. The birth, like the marriage, is kept secret from Beatles fans at Brian's urging.

August 3, 1963 The Beatles play their farewell show at the Cavern Club, having logged almost three hundred performances there.

February 7, 1964 The Beatles begin their first US tour.

February 9 and 16, 1964 The Beatles headline twice on the "Ed Sullivan Show" on CBS, for a $3,500 performance.

March 1964 Shooting begins on the Beatles' first feature film, A Hard Day's Night, as "Can't Buy Me Love" tops the charts both in Britain and America.

January 1965 John composes "Help!", the title song for the Beatles' second film. He later confides the lyrics are a plaintive cry for help and a clue to the confusion and despondency he feels.

Spring 1965 John, Cynthia, George Harrison, and Patti Boyd inadvertently take their first LSD trip when a dentist-friend of Harrison's spikes their coffee.

July 29, 1965 Help! has its world premiere in London's West End. Reviews hail the Beatles as "modern Marx Brothers."

August 1965 The Beatles meet Elvis Presley at his home in Bel Air. Not knowing their individual names, Elvis refers to each as "Beatle."

November 1966 Yoko Ono and John Lennon meet for the first time at a preview of her art show Exhibition #2 at Indica Gallery in London.

September 1967 John writes "I Am the Walrus" while under the influence of LSD. The Beatles' film Magical Mystery Tour airs on the BBC in December and is received with a resounding blast from the critics. John anonymously sponsors Yoko's Half a Wind Show (subtitled Yoko Plus Me) at London's Lisson Gallery.

January 30, 1969 The Beatles' last performances a group is on the roof of the Apple building, during the filming of Let It Be. John thinks Paul intends his lyrics, "get back to where you once belonged," for Yoko, who is at John's side during the session.

March 20, 1969 John and Yoko marry in Gibraltar.

April 10, 1970 Undercutting John, who has promised not to announce his intended departure from the Beatles, Paul announces at a press conference that he has left the group due to "personal, business, and musical differences." His first solo album, McCartney, is subsequently released with considerable fanfare.

Fall 1973 For the first time since they met in 1968, John and Yoko agree to separate. John travels to Los Angeles. He called his eighteen-month separation from Yoko his "lost weekend."
November 1973 John, Paul, and George sue Allen Klein. "The only thing that has prevented us from getting together again," declares Paul, "has been Klein's contractual hold over the Beatles' name. When he's out of the way, there is no real reason why we shouldn't get together again." John's album Mind Games is released.
January 1975 John and Yoko are reunited. The Beatles' final dissolution takes place in London.
October 9, 1975 Sean Taro Ono Lennon is born at New York Hospital on John's thirty-fifth birthday. John is ecstatic. He exclaims, "I feel higher than the Empire State Building."
October 23, 1980 John's first new single, "(Just Like) Starting Over," is released.
November 17, 1980 The Double Fantasy album is released internationally. Plans are discussed for a world tour.
December 8, 1980 John and Yoko return to the Dakota in their limousine, after a recording session. As John walks toward the entryway of the building, a deranged assailant, Mark David Chapman, fires five shots, hitting John in the chest. By the time Yoko and police rush him to Roosevelt Hospital's emergency room, John Lennon is dead.

John on Yoko
"I'd never met a woman I considered as intelligent as me. That sounds bigheaded, but every woman I met was either a dolly chick, or a sort of screwed up intellectual chick. And of course, in the field I was in, I didn't meet many intelligent people anyway. And I always had this dream of meeting an artist, an artist girl who would be like me. And I thought it was a myth, but then I met Yoko and that was it."
---


A self-portrait. Click here for larger version.

"Uta o tsukuru toki, piano o tsukaimasu," John writes, learning Japanese. ("When I create a song, I use a piano.")